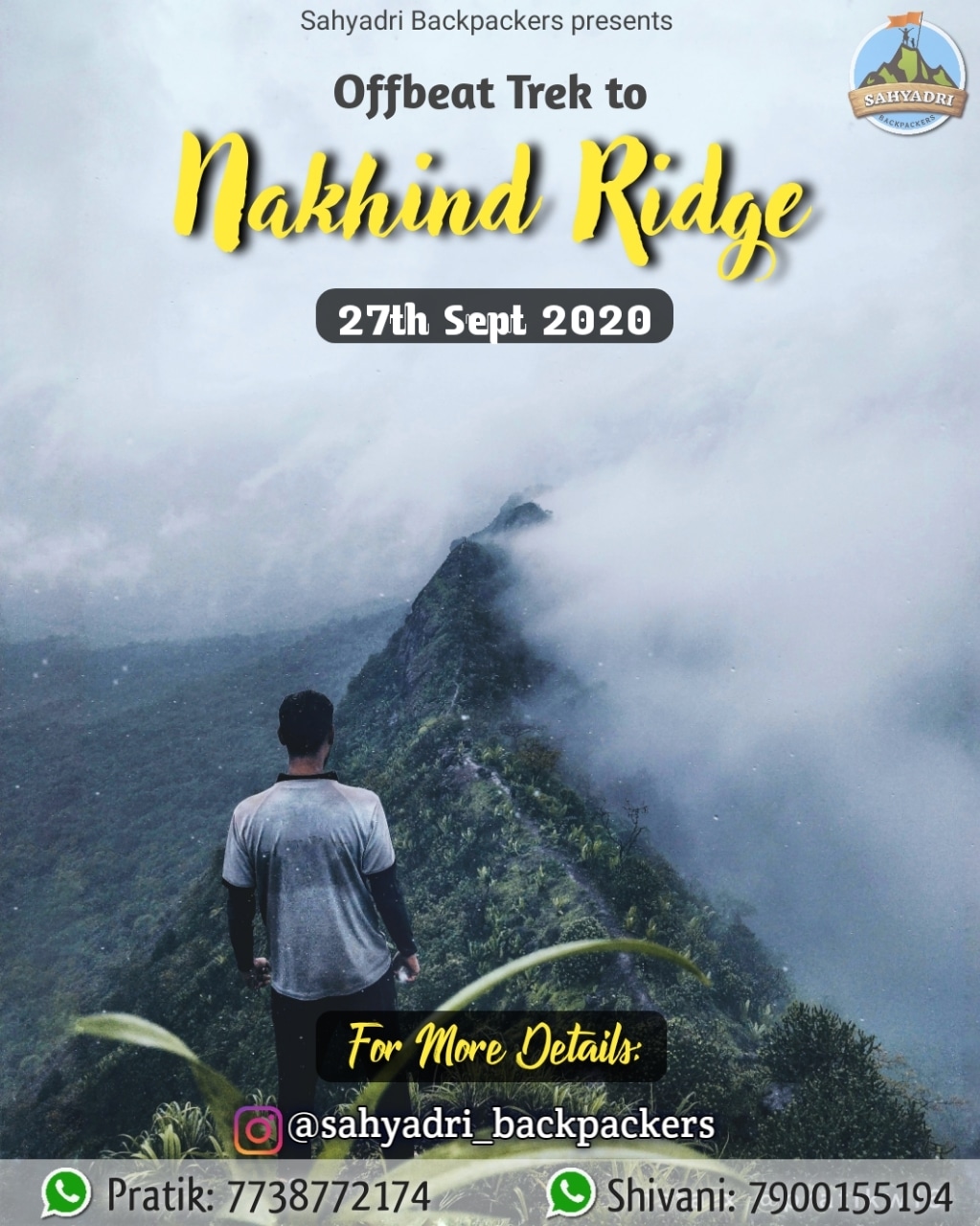 Sahyadri Backpackers present offbeat trek to Nakhind Ridge
1385
1385 people viewed this event.
Nakhind Ridge Trek
Nakhind Ridge has a natural rock peak with a cavity in it at the top which is called 'Nedhe' or 'Nosehole' formed by natural erosion.this trek attracts trekkers for many reasons and one of the reasons being a hollow area on the top which passes through a rock.
IMPORTANT NOTE
Don't travel if you are sick or if you have been around someone with COVID-19 in the past 14 days.
More events of Sahyadri backpackers are coming up so you can enjoy the wander with us later.
TREK EVENT DETAILS
Date : 27th September 2020.
Location : Nakhind Ridge, Matheran Range
Difficulty Level : Medium
Endurance Level : Medium
Height of Peak : 2311 Ft
Duration : 2.30 hrs ( one way )
MEETING POINT:
📌Kalyan Station.
📌Bedisgaon Village :
MEETING TIME:
07:30 At Kalyan Station
09:00 At Bedisgaon (Anyone who wants to travel in their own vehicle)(People who fail to reach at the given time shall not be entertained)
COST INCLUDES:
Transportation from kalyan Station to kalyan Station
Tea, Breakfasts
Expertise Charge
First aid kit
ITINERARY :
By SB Transport :
We are going to travel by vehicle all together, so please come to the meeting point on time
By own Transport :
Anyone who wants to travel in their own vehicle should meet Bedisgaon at 9 am
27th September 2020
➡ Details
🔸09:00 Reach base village and start ascending.
🔸12:00 Reach at top explore and lunch.
🔸14:00 Descend & move towards base village.
🔸16:30 Reach base village .
🔸16:45 Head back to Dombivali Station
🔸18:15 Reach at Kalyan (Which is Tentative)
➡ THINGS TO CARRY:
2 litter water
Lunch or snacks item, as lunch is not included.
Mask Compulsory
Sanitizer
Rain coat.
Extra cloth(T shirt and track pant )
Shoes
Personal medicine(if any)
Bagpack/ sack
➡ ADVISORY:
1.Leaders decision will be final & binding to everyone till the completion of the trek.
Alcohol and Smoking is strictly not allowed on the trek.
3.Polluting trek route of the destination is strictly prohibited & any participant found doing so may have to face disciplinary action.
Note: Kindly note that there might be changes occurs in the schedule because of any unavoidable circumstances.
For more information Call/Whatsapp:
Pratik 7738772174
Shivani 7900155194
Saurabh 8928642441
Prafull 7045382333